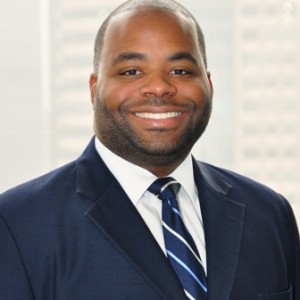 Sanders Roberts & Jewett LLP is proud to announce Damon M. Brown as its newest partner. Mr. Brown, who joined the firm in January 2015 as Of Counsel, has been integral in growing the firm's labor and employment practice. He brings with him considerable expertise in traditional labor relations and employment law (including extensive wage & hour class action experience), and represents clients across a broad range of industries in complex litigation matters.
---
"Current and potential clients are increasingly seeking lawyers who understand their business and take proactive and innovative steps to address important legal issues. Damon has demonstrated those abilities and shown the strong commitment to client service and dedication to teamwork that are the hallmarks of this firm," said Reginald Roberts, Jr., the firm's Managing Partner. "His specialization in the area of wage & hour litigation strengthens both our employment practice and the firm overall."
---
Prior to joining Sanders Roberts & Jewett, Mr. Brown most recently worked in Baker Hostetler LLP's Los Angeles office as part of their wage & hour class action team. He is widely respected by the bench and the bar for his zealous advocacy for clients, and was recognized by Southern California SuperLawyers magazine as a Rising Star in 2014, 2015 and 2016. Mr. Brown sits on the State Bar Commission on Judicial Nominees Evaluation, and is an active member of the Los Angeles County Bar Association, John M. Langston Bar Association, and Constitutional Rights Foundation. He currently serves as Vice President for the California Association of Black Lawyers and is a frequent speaker on employment law topics at conferences throughout the country.
"I'm honored to be named a partner at Sanders Roberts & Jewett," said Brown. "I am eager to assume this leadership role in the practice, and confident that my experience will contribute to this growing firm."
Mr. Brown received his undergraduate degree from the University of California, Berkeley and law degree from the Vanderbilt University Law School. He also holds a certificate in International Conciliation from the University of Bologna in Bologna, Italy.
Football Shirts – Find the Hottest Teams https://www.alljerseysports.com/ and Styles
South American football tops are among the hottest selling products Discount Liverpool Jersey at most stores. This is because the teams that come from South America are BvB shirts among the most popular in the world, and are some of the best possible Buy Soccer Jerseys football teams available. So many people enjoy watching a good football game, and there are billions of fans around the world that love South American teams. Fortunately, online football apparel stores have no trouble keeping up with this popularity, and offer Discount AC Milan Football Shirts a full range of football shirts to choose from, including the best players and teams in the leagues.
While football has been popular in South America and the UK for many decades, it has just Madrid Soccer begun becoming more popular around the world. South American football teams aren't the only ones that people Tottenham Hotspurs are looking for, but they are some of the hottest sellers. This game is followed almost religiously by many people, who delight in Juventus Dwelling Jersey watching the action of a good football match between a couple of good, strong rivals. Professional clubs aren't the only ones competing today, because premier league teams, national teams, and other clubs have been formed and they add more Man United Shirt fuel to the fire when it comes to a passion for football among the fans.
You should take the time to check out all of the Liverpool Kit different shirts that are available. Every different store has different levels of quality and different prices, but you deserve high quality shirts for less from a store that you can trust. No matter what you are looking for, you can find Puma Arsenal Soccer Shirts it with the best football stores online. Just give yourself a little time to look and it should be very easy for you to get everything that you need.
These football shirts are hot sellers internationally, and they shouldn't be difficult to find at all. Even if you're from the UK or the US and are looking for your favourite South Tottenham Hotspur Soccer Shirt American football shirt you can find exactly what you want with the best football stores online. The popularity of football (or soccer to US fans) is constantly growing as time goes on and you can trust 2018 Liverpool Historical Shirt that retailers are going to keep up with demands to provide you with the football shirts that you need, no matter what they might be. The unique designs and authentic jerseys that allow you to represent your favourite team or player are a great addition to any football fan's collection.