Partners Melvin Felton and Robert Dixon Are Recognized as 2021 Rising Stars, joining Partners Justin Sanders and Reginald Roberts, Jr. Who Are Recognized as 2021 Super Lawyers
Sanders Roberts LLP is pleased to announce that partners Melvin Felton and Robert Dixon have been recognized as 2021 Rising Stars. Mr. Felton in the area of Employment Litigation, and Mr. Dixon in the area of Personal Injury Products: Defense.
Rising Stars are the top 2.5% percent of attorneys in each state, under 40 years old and/or who have been practicing for 10 years or less, as chosen by their peers and through independent research. The Rising Stars process is designed to identify lawyers who have attained a high degree of peer recognition and professional achievement. Rising Stars is a comprehensive and diverse listing of outstanding attorneys, representing a wide range of practice areas, firm sizes, and geographic locations.
Mr. Felton's practice focuses on employment defense at trial, including whistleblower retaliation, disability discrimination, and wage and hour litigation. He also practices business litigation.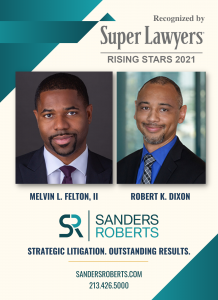 Mr. Dixon's practice focuses on defending high-profile corporate clients in product liability, personal injury, and consumer litigation in state and federal courts throughout California. He represents clients from a variety of industries, including automotive, pharmaceutical, construction, and retail.
Earlier this year, SR's founding partners, Justin Sanders, and Reginald Roberts, Jr. were recognized as 2021 Southern California Super Lawyers by the publishers of Los Angeles Magazine. Mr. Sanders in the area of Business Litigation and Mr. Roberts in the area of Employment Litigation.
Super Lawyers is a rating service of outstanding lawyers from more than 70 practice areas who have attained a high degree of peer recognition and professional achievement. The selection process is multi-phased and includes independent research, peer nominations, and peer evaluations.
Mr. Sanders' practice focuses on business litigation, general liability defense, and criminal investigations involving medical professionals.
Mr. Roberts' practice focuses on employment law matters, workplace investigations, and has defended both public and private institutions in civil lawsuits filed regarding the entire spectrum of labor and employment issues.
"I am humbled and honored to have been included on this prestigious list with so many other truly wonderful attorneys," said Mr. Sanders. "For years, Super Lawyers has been a reliable source of quality representation for those needing legal services and referrals for attorneys." Mr. Sanders said that while he appreciates recognition and awards, what he loves the most is delivering excellent results for his clients. "That has always been our culture at SR," he added.
About Sanders Roberts LLP:
Since 2008, Sanders Roberts LLP has provided exceptional legal services customized to its clients and their individual situations. SR believes in efficiently and effectively resolving the issues at hand and crafting solutions that work for its clients and their enterprises. SR has been recognized as a Top 20 Boutique in California by the Daily Journal, it is also a member of the NAMWOLF, and a certified Minority Business Enterprise.
For more information, please contact Sanders Roberts LLP at info@sandersroberts.com