Sanders Roberts LLP Attorneys Sabrina C. Narain and Cynthia Y. Sun Recognized as 2021 Inspirational Women Awards Nominees by the LA Times B2B Publishing Team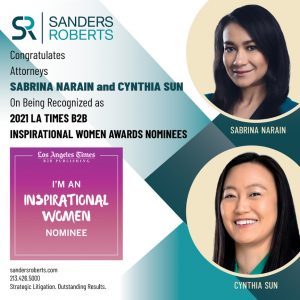 Sanders Roberts LLP attorneys Sabrina C. Narain and Cynthia Y. Sun have been recognized as 2021 Inspirational Women Awards Nominees by the LA Times B2B Publishing team, in acknowledgment of their noteworthy successes and accomplishments during the last 24 months. The awards celebrate "outstanding female executives who are positively impacting the California business world!"
Ms. Narain leads the Firm's automotive practice group. Her practice areas include warranty defense, product liability, and business litigation. She focuses on all aspects of litigation, including pre-litigation strategy, law and motion, depositions, trials, and client counseling. She also writes scholarly articles on litigation involving automotive manufacturers and regularly speaks at legal conferences throughout the country on a variety of litigation topics.
Ms. Sun specializes in the areas of lemon law and personal injury/general liability defense, including wrongful death and catastrophic injuries. She has successfully litigated high-exposure cases by either obtaining summary judgment or nominal settlements. She has recently scored victories on three motions for summary judgment for a large multinational developer and operator of retail shopping centers in two premises liability cases.
About Sanders Roberts LLP:
Since 2008, Sanders Roberts LLP has provided exceptional legal services customized to its clients and their individual situations. SR believes in efficiently and effectively resolving the issues at hand and crafting solutions that work for its clients and their enterprises. SR has been recognized as a Top 20 Boutique in California by the Daily Journal, it is also a member of the NAMWOLF, and a certified Minority Business Enterprise.
For more information, please contact Sanders Roberts LLP at info@sandersroberts.com