Sanders Roberts LLP co-Managing Partners, Justin Sanders and Reginald Roberts, Jr., Recognized as "Visionaries" in the LA Times B2B Business of Law Magazine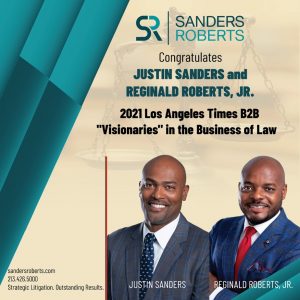 Sanders Roberts LLP co-Managing Partners, Justin Sanders and Reginald Roberts, Jr., Recognized as "Visionaries" in the LA Times B2B Business of Law Magazine
Sanders Roberts LLP congratulates its co-managing partners, Justin Sanders and Reginald Roberts, Jr., on being recognized as "Visionaries" in the Business of Law: Trends, Updates, Visionaries & In-House Counsel Leadership Awards Magazine produced by the Los Angeles Times.
Mr. Sanders' profile (LA Times)
Mr. Roberts' profile (LA Times)
About Sanders Roberts LLP:
Since 2008, Sanders Roberts LLP has provided exceptional legal services customized to its clients and their individual situations. SR believes in efficiently and effectively resolving the issues at hand and crafting solutions that work for its clients and their enterprises. SR has been recognized as a Top 20 Boutique in California by the Daily Journal, it is also a member of the NAMWOLF, and a certified Minority Business Enterprise.
For more information, please contact Sanders Roberts LLP at info@sandersroberts.com