Sanders Roberts LLP Partner Sabrina Narain is Featured in Professional Woman's Magazine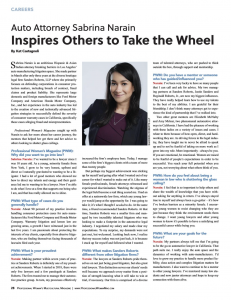 Sanders Roberts Partner, Sabrina C. Narain, is featured in the Fall 2021 issue of Professional Woman's Magazine. The article, 'Auto Attorney Sabrina Narain Inspires Others to Take the Wheel,' discusses Ms. Narain's career journey as a woman of color in the auto manufacturing litigation space, the mentors that helped her get to where she is today, and her advice to others looking to shatter glass ceilings.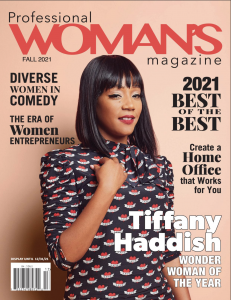 "I am living evidence that your career is what you make of it and what you want. You can't expect someone to stand up for you. You have to do it. You become better when you take control over your own career," said Ms. Narain.
Read more on Ms. Narain's interview: view article here
About Sanders Roberts LLP:
Since 2008, Sanders Roberts LLP has provided exceptional legal services customized to its clients and their individual situations. SR believes in efficiently and effectively resolving the issues at hand and crafting solutions that work for its clients and their enterprises. SR has been recognized as a Top 20 Boutique in California by the Daily Journal, it is also a member of the NAMWOLF, and a certified Minority Business Enterprise.
For more information, please contact Sanders Roberts LLP at info@sandersroberts.com